Reading Time:
3
minutes
As Customer Success Professionals, we must keep on top of the latest CS trends and ways of working to ensure we're working as efficiently as possible. That means relying on experts in the field and leaning on resources from around the web. I've gathered up some of the best resources out there right now so you can get stuck in and start learning!
Customer Success Blogs and Blog Posts
SuccessCoaching is one of the best-known training resources out there for CSM's. They provide premium training courses at all levels, from entry CSM to leadership and management. If you're not ready to dive into one of their Customer Success Training programs you can still learn a ton from their Customer Success Blog and resources.
Head over to their blog page, browse posts or use the search bar to find something specific.
SuccessCoaching also gives you tons of free resources, such as webinars, PDF's and recommended Apps for CSM teams. Hover over their 'Resource' tab as seen below and click the resource you're after:

GeckoBoard is a Data Dashboard software. You can completely customize your dashboard to suit your teams' KPIs – but, they also have this awesome board specifically for Customer Success professionals.
The board includes user-submitted Customer Success tips and advice from people and companies all over the world. You can filter the content to see different categories, and there are some gems in here!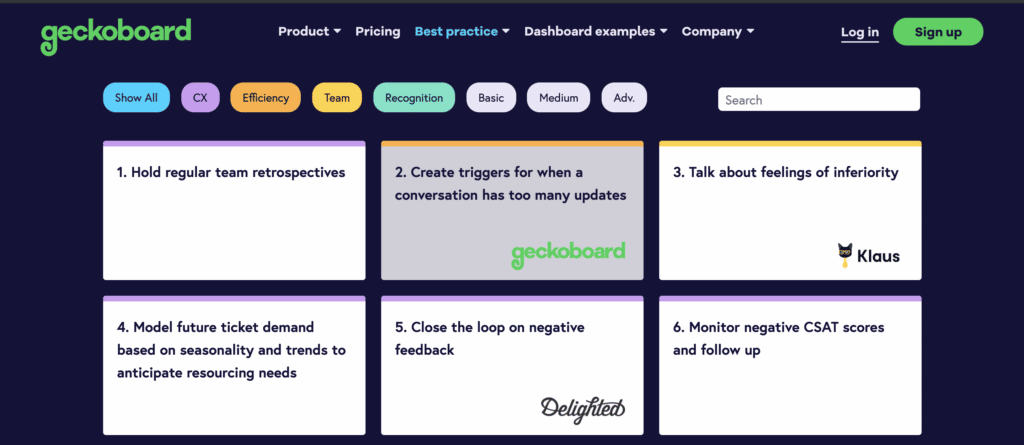 ChartMogul provides SaaS companies with a Subscription Analytics Platform – it helps you grow and manage your MRR. ChartMogul has a great resources section which includes some super helpful PDF resources including their Saas Metric Cheat Sheet. See all of their resources here.
The blog is a great data-focused resource for CSM teams as they cover everything a recurring revenue business model would need to know about their metrics: https://blog.chartmogul.com/
The Success League focuses on helping CS Leaders grow, scale and manage their teams. So if you're a leader, this one is for you. Look out for resources around hiring here!
ChurnZero covers a huge range of topics in their blog here – Their software helps companies fight company churn, so expect lots of posts focused on strategies to retain your clients.
ChurnZero's resources page is a must-visit for quality Customer Success webinars.
Customer Success Podcasts
The Subscribed Podcast – As written on SoundCloud: "In the only podcast dedicated to the 'Subscription Economy', hosts Tom Krackler and Rachel English will talk to innovators, entrepreneurs, and analysts about the business shift towards recurring revenue."
CustomerImperative Podcast – "In the only podcast dedicated to customer-centric growth leaders in the B2B SaaS and tech space, we share conversations with industry executives who are actively growing and scaling their businesses with a customer-first approach.The podcast is aimed at SaaS and technology leaders who are facing the day to day challenges of scaling."
The Jasons Take On is a podcast run by Jason and Jason! They explore new topics related to Customer Success every month to advance the thinking and practices of Customer Success Professionals.
Churn.fm has over 10,000 listeners tuning in to Andrew Michael who talks about tackling churn and increasing retention. He invites well-known guests to join him in these discussions.
Customer Success Courses
Saas Metrics Refresher is a short email training course delivered via a weekly email sequence to your inbox. It aims to get you familiar with the metrics you need to know for measuring subscription businesses and is bought to you by ChartMogul.
Sales: Customer Success delivered on LinkedIn by Robbie Kellman Baxter. Robbie is Advisor to the worlds leading subscription-based companies, a key-note speaker, author and now also has her own podcast. Learn how it's different from customer support, what makes a successful CS sales professional and CS leader, and how to align CS with the larger organization.
SuccessCoaching can get you skilled up to enter a career in Customer Success, help you progress in your current role, or support you in CS leadership. Whatever your goals, it looks like SuccessCoaching has it all! These are paid courses with solo and team options.
Communities – Slack Groups
SupportDriven has been joined by over 3,500 support professionals. It's a great place to ask for advice, provide feedback to others, and to mingle with other support and success professionals.
Customer Retention & Happiness Slack is a great small community of people working in support and success, focused on helping each other to proactively keep their clients happy.
SaaS Alliance is an invite-only community focused on SaaS founders and professionals. They describe themselves as being 'established to exchange knowledge, ideas and best practices".
Preflight is an exclusive community with the sole purpose of levelling up customer onboarding and product implementation processes. This one is definitely worth checking out if you're involved in onboarding at any level.
Post Featured Image Credit